October 3rd, 2016; 62 degrees F., 74% humidity, 8mph winds, Cloudy
Who is online?
In total there is
1
user online :: 0 Registered, 0 Hidden and 1 Guest
None
Most users ever online was
6
on Mon Oct 03, 2016 6:35 pm

~Oliver~
~Prefers Males and Females~
~American Bulldog~
~History~
Oliver was born in a wealthy household with his two brothers, Zekk and Alek, and his one sister, Delia. His mother, Rose, was very protective of the pups. Once they could open their eyes and run around, they all met their father, Kane. Kane was excited and happy to finally meet his pups, and all was well. The time for them to be sold came all too soon. Zekk and Delia were adopted by one family, Alek went to another. Finally, Oliver was sold to a young woman and her daughter. Oliver grew up well, though he missed his family. He spent much of his time in the backyard. When he wasn't sleeping in the dog house or eating his food, he was digging holes and happily chasing small animals. Oliver would come inside at night and sleep in the little girl's room, her name was Hana. One day, while the mother went down the street to pick up some bread and other things, Oliver and Hana experienced a dramatic home invasion robbery. Oliver, still a young pup, did his best to fight off the intruders. Hana was shot, but luckily survived. The mother and Hana felt unsafe in the home, and moved to apartments where Oliver could not accompany them. Oliver was sent to an animal shelter, where he spent the rest of his pup-hood coming in and out of families. Once he was a year old, he escaped under a fence and has since roamed free.
~Appearance~
Oliver has smooth white fur and folded over ears. His tail is long and mostly straight with a little curve at the end. Around his muzzle and eyes it is mostly pink, where his skin is seen. He's short-haired, the texture a little rough, but like said, still smooth. Looking straight at him, it can be seen that on his right ear there is a small light brown patch. He stands at 25 inches and weighs 93 pounds.
~Traits~
Playful, skittish, friendly, loyal, can be serious when needed
~Parents~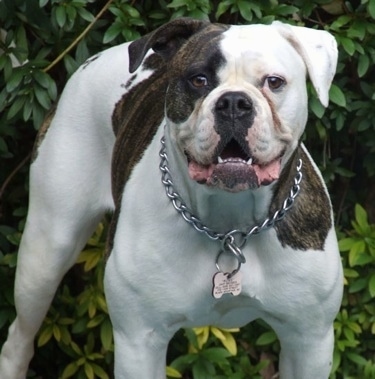 Mother~ Rose
Father~ Kane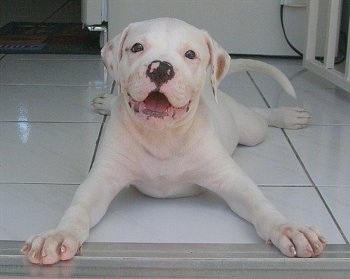 ~Siblings~
Picture 1: Delia
Picture 2: Oliver
Picture 3: Zekk(front), Alek(back)
Mate~
None
Crush~
None
Pups~
None



Posts

: 1


Join date

: 2016-09-24


Age

: 16


Location

: Your yard




---
Permissions in this forum:
You
cannot
reply to topics in this forum